Howdy!! This month's Craft Lightning challenge (hosted by
Country Chic Cottage
and
30 Minute Crafts
) was to create a Halloween Craft in 15 minutes or less. I chose four different movies that had memorable yet somewhat easy masks like the late Heath Ledger's
Joker
,
Black Swan
,
Jigsaw
, and
V for Vendetta
:
Back in the day I was REALLY into scary movies... around the time when the first three Saw movies came out. I remember that inviting friends over for a scary movie marathon was my idea of the perfect Halloween celebration (along with Haunted House trips of course).
As I grew older, I became even more fond of Halloween. One night a year you get to dress up and become someone else? Sign me up! Then I met my boyfriend and one of our very first projects as a couple was designing and making our
Zombie Lego Man Costumes
.
Which is why over the next couple weeks, you will see many Halloween related posts....
Supplies
Table cloth ($1 at Walmart)
Poster Board ($0.30 at Walmart)
Acrylic Paint (optional, $0.50 at Walmart)
Paint Brushes
Pencil
Tape
Scissors and/or X-acto Knife
*Projector
*if you don't have/borrow a projector, you can "tile print" your image(s) on regular printer paper, tape the "tiles" together, cut them out, and trace it onto poster board. Or try any of these
12 transfer methods
.
Directions
Measure your door width. Set up your projector to enlarge the image according to your doors width.
Tape the Poster Board to the wall, and trace your image(s). Cut out each image.
Paint (if necessary) and let thoroughly dry.
Fasten the table cloth to your door (don't skimp especially if you don't have a 'storm door'). Cut off any excess material.
Tape images to the door.
All the masks I chose were easily paired with inexpensive black or white table cloths. Easy, inexpensive, and a high impact?! My kinda project!
Not digging these particular masks?! Here are some other ideas: Scream, Michael Myers, the Crow, Jack (The Nightmare Before Christmas), or even Jason (Friday the 13th).
>>>Looking for even more 15 minute Halloween Crafts? Stop by our host, Angie from
The Country Chic Cottage as she will be sharing projects all week (by clicking the images below)!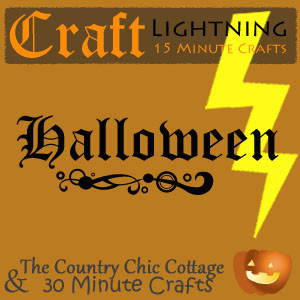 Remember...