This series of home posts are events which occurred in the distant past, please bear with me until I catch up to the present.
I think the bedroom post was the quickest room I've covered thus far one post and it's done, must be some sort of record. Either way it's time to move onto the Second Bedroom per reader request, is the little info graphic drilled in your brain yet after 4 whole rooms?
In order for the next posts to make sense I figured it'd be best to show you the floor plan and how things were going to change:

Don't see it? How about a closer look: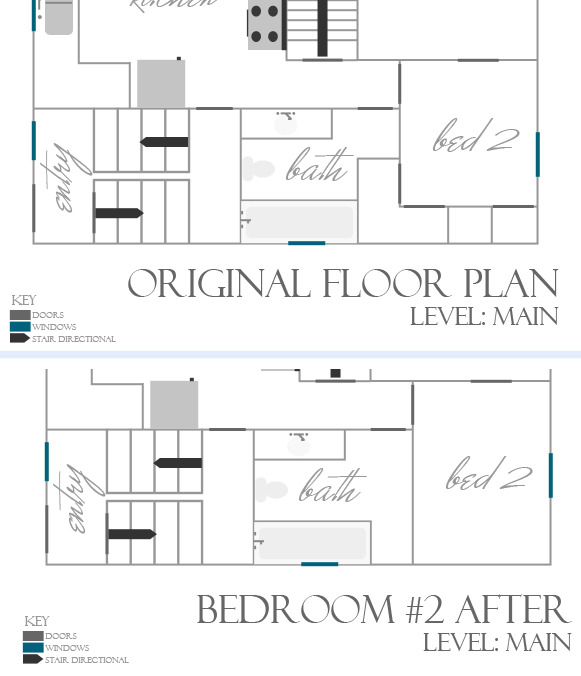 Hover over image and it's even more obvious.
Surprise!! Instead of a second bedroom we decided to convert it into a laundry room/walk in closet. Many of you may be shaking your head at the screen right now. Maybe you're thinking "resale value? On a one bedroom?!" or "what about guests, or kids?" Well here are the problems and our reasoning:
1. The location of the washer and dryer made.absolutely.no.sense.
When we purchased the house, a broken mangled piece of appliance (which we could only assume was a washer at one point) was in the basement. Said appliance was next to the only drain in the entire basement. AND on top of it all our super star basement tends to leak in the spring months. That would only cause corrosion and all sorts of bad things to a washer and dryer.
Helping your imagination.
Yep during the construction, I failed to take evidence proof of the basement, so the above is a current photo sans washer, but still shows our spring weather water dilemma, you get the picture.
Oh and where was the dryer? So glad you asked- it was in this random nook up two small sets of stairs on the first floor. How annoying would that have been to dry some clean clothes?
Again, I failed to take photos of the dryer beast. Just picture a yellow stained dryer (from years of smoke residue) which was so well used that it needed to be held shut with a broken broom handle.
2. We plan to dedicate the entire upstairs to additional bedrooms and a bath someday.
So hopefully nothing happens to us where we have to sell before that happens. Otherwise we could convert the room back into a bedroom.
3. Room for guests/children.
It's true; we do live close to the middle of nowhere. So when people want to hang out and have a few and stay late, it seems like it'd be a problem. Oh we have that covered. We have a lovely leather couch and another couch that guests can sleep in the interim. Once summer rolls around, we have a very large tent and an even larger backyard to put it on, which is my idea of a good time. Heck we may even go out there and camp in the back yard just for fun.
As for children, we don't have any now. I'm more than content loving and spoiling my nieces and nephews to death, but they're just not in the cards. The remodel dust needs to settle a little while first. Actually, we don't plan to stop remodeling for a few years. It's just our personal preference. And no I don't hear the 'ol clock ticking, if the time comes it will happen or we'll adopt. Enough said.
4. I have a lot of clothes. I mean A LOT. And quite a few pairs of shoes.
Yeah that is a sad confession. I guess that's what one gets when they go from being a lifeguard (little to no clothes) to an office job with the loose 'business casual' nice clothes, which usually required layers. Ok I may have gone a bit overboard the last year or two I was there, but when I realized how awesome pencil skirts were, let's just say it was all downhill from there. The pettily little closet space that was there, yeah that just wasn't going to cut it.
5. The bedroom layout also didn't make sense.
Just like #1, the layout wasn't ideal. I mean if it were to be a bedroom, where would you put the bed? Right by the door? No the door would slam into it or the door wouldn't be useful. Bed jetting out into the room? There wouldn't be any walk room. Sure when we removed the closets there would have been plenty of room for a bed, but then again two rooms without a closet? Did I mention we already had a bit of a storage problem?
6. Losing space in the bedroom by making the wall straight.
But we planned to make the bathroom just a smidge bigger. The space is definitely noticeable in the bathroom. I can't wait to spill the beans on that one.
Sure one bedroom is a bit nerve wracking when it comes to resale, but it will be remedied someday. Reasons a plenty, we went ahead with the new plan which included demolition! Here's a sneak peak:

Have you ever had a million few good reasons to jump the gun on something? Do you think we're crazy to have one bedroom? Maybe the floor plan or room chart is forever engrained in your brain?